How does Dr. Ryan Peterson treat pain?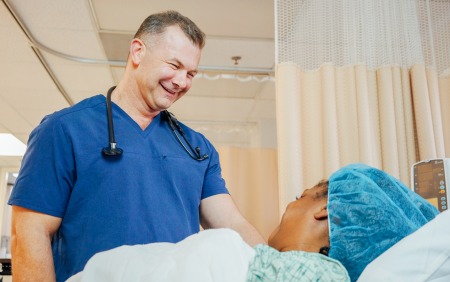 Dr. Ryan Peterson likes to sit down with each patient and evaluate them and look at the whole situation and evaluate the injury but also with the knowledge that pain is "biopsychosocial" and a good pain management doctor takes into consideration all aspects of a patient's life: the physical injury, the patient's function, coping skills, medication use, history with substance use, daily functions, mental health, support systems, and life events.
Once Dr. Ryan Peterson has evaluated you, he will likely either make recommendations to your current physician as a consultant, or keep you on with a care plan. The care plan may involve trials of medications or interventional procedures. Please note that if it is necessary to use any kind of controlled substance or opioid medication, it will likely and usually be very short term and closely monitored with frequent visits, medication contract, and urine drug screens. Dr. Ryan Peterson recognizes the current opioid crisis in California and knows that while some individuals require these medications for severe debilitating pain conditions or cancer, that they are easily abused. Dr. Ryan Peterson uses his skills as an addiction medicine physician to monitor and treat any substance issues.
If you need a procedure to help fix the pain condition, then Dr. Ryan Peterson will go over that with you in the office. In general these procedures are non-surgical and involve needles to fix the pain. Usually these procedures are performed in a surgery center using "twilight" anesthesia delivered by an anesthesiologist or certified registered nurse anesthetist. You always go home the same day, and Dr. Peterson will go over with you at what point you can expect to feel the pain get better (some procedures "kick in" right away; others take days). Some procedures are performed as a part of a "series" of stepwise injections intended to maximize pain relief. There is a science to this, and Dr. Ryan Peterson loves to describe it to you in a clear, understandable way. He knows that when it comes to pain management, EXPECTATIONS ARE EVERYTHING!
Here are some things you need to remember for procedure:
Talk with your primary care doctor before having any procedure. If they suggest having a conference call with Dr. Peterson about this, please let him know. That is never a problem.
Unless Dr. Ryan Peterson or your pain management referring physician tells you differently, you do NOT need to come off aspirin or anti-inflammatory (NSAID) drugs (ibuprofen, naproxen, diclofenac, meloxicam, etc) before the procedure. Acetaminophen should be continued as normal.
BLOOD THINNERS: Stop clopidogrel (Plavix) or prasugrel (Effient) 7 days before procedure. Stop warfarin (Coumadin) 5 days before procedure and get blood drawn the day before procedure to reach an INR below 1.5. Stop apixiban (Eliquis) and rivaroxaban (Xarelto) 3 days before procedure. Stop dabigatran (Pradaxa) 5 days before procedure.
FOOD AND DRINK: Most procedures are performed with anesthesia, so do not eat anything for EIGHT HOURS or drink anything at least SIX HOURS prior to the procedure. If you have to take important cardiac/blood pressure/thyroid meds, you may take them in the morning before the procedure with a VERY SMALL SIP of water (no blood thinners-see above).
You must have an adult drive you home after the procedure (no taxi, Uber, etc).
Notify Dr. Ryan Peterson of any infections, fevers, or antibiotics taken in the week prior to the procedure.
If you are diabetic, you can usually have the procedure, assuming the benefit of pain relief outweighs the risk of the transient increase in blood sugar.